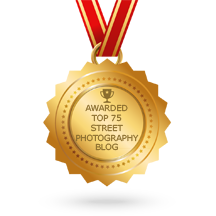 Today I received a surprising e-mail. The "Streets of Nuremberg" have been selected by the panelists of Feedspot as one of the Top 75 Street Photography Blogs on the web. I made the list ranking 30th, which is all the more humbling as this list really features the "who's who" of renowned Street Photography blogs, many of which I visit frequently.
Since I started the "Streets of Nuremberg" in January 2016, this blog has grown to 2.765 followers with an average of 160 views a day.
This would not have been possible without my readers, many of whom have become friends. And it is an obligation to continue bringing you my experiences and tips around Street- and Travel Photography.
Make sure you also frequently check out my  Learning Center with all my free tips, tutorials and inspirations around photography!
Have a great weekend!
Marcus